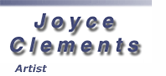 Joyce Clements Artist PO Box 39 Bolinas CA 94924 415-868-1008

Joyce Clements is an acclaimed jewelry designer and goldsmith and a recognized sculptor in steel, bronze, wood, and fiberglass/resin.







































About Joyce Clements: Painter, Goldsmith and Sculptor

Joyce Clements says she was born under a slew of lucky stars. She was in fact born on July 4th in Washington DC and raised by two hard-working parents who held down day jobs and also owned and operated a small town variety store. They believed wholeheartedly in the "right to pursue happiness" and that anyone could achieve what they set their minds and energies to do. "Back then," Arlington, Virginia was a small town with back alleys and forests. Joyce was free to explore the world around her unfettered by very many "shoulds or woulds." Joyce got from her father physical and mechanical skills and from her mother a zest for living, which has meant that she is game for most anything, anywhere, at anytime.

Joyce graduated from Duke University in Philosophy, from the from the University of Maryland in Sociology and a received a PhD from the University of California at Berkeley in Criminology. During the years of working on her PhD, Joyce spent hours sitting by the side of a jeweler, watching and asking, and then apprenticing. Subsequently she has taken classes with several master craftspeople and practiced the skills she has learned from her own study and invention.

After graduate school, Joyce worked for several years as a Criminal Justice professional in the San Francisco Bay Area and moonlighted by designing and making art jewelry. Then jewelry became her career! Joyce and a partner bought, renovated and ran a custom-design jewelry store whose stock was created primarily by her. Six years later Joyce began working as an independent goldsmith and jewelry designer. She constantly reset her design and skill goals, moving from lost wax casting to the most complicated fabrication and advanced jewelry techniques. In the 1990's she added welded steel, then wood, then fiberglass/resin large sculptures to her repertoire.

Today she lives on the edge of the Pacific Ocean in Bolinas, CA, a rural town north of San Francisco. She continues to design jewelry, make sculpture in various media and paint. She is also an active environmentalist and a dedicated gardener. When she is not making art, she can be seen driving her truck to supply yards or running errands on her red, white and blue Vespa.

Clements' work is in the permanent collection of three museums. Her jewelry and sculpture has been shown in museums and galleries throughout the United States and Mexico. Pieces are in the private collections of hundreds of people throughout the world. Her available jewelry creations can be seen on her website, www.JoyceClements.com. Visitors to the website are able to view the neckpieces of "The Judgment of Paris" series and a selection of "Sun Temple" rings, among other jewelry works.