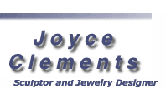 Joyce Clements Sculptor PO Box 39 Bolinas CA 94924 415-868-1008

whale. I kept the form inside myself for two years. I knew that I had to try to bring it into existence so that other people could experience how small and beautiful this hearing vessel is.
This particular inner ear, my carving, is my best reflection of one from the Blue Whale, Balaenoptera musculus, the largest animal ever in existence. As adults, they can be 100 or more feet long and weigh up to 330,000 pounds. The population of Blue Whales is thought to be somewhere around 7,000 animals. The Blue Whale is listed as an Endangered Species.