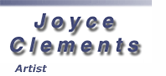 A Collaborative Sculpture by Michelle O'Michael and Joyce Clements

96" x 20" x 48" Mixed metals

The Spirit of Triumph is the result of great collaboration between Michelle O'Michael and me. I met Michelle at a sculptor's conference and we recog-nized each other as kindred spirits. Michelle flew to San Francisco from Houston for a whirlwind sculpture-making frenzy. Assembling our work from collected metals, we drove straight ahead, following the impulse of our materials and high energy. What emerged in a fast and furious few days is The Spirit of Triumph.

She is a woman who meets each day with exuberance and determination, one who salutes her good fortune and prevails over misfortune.


Spirit of Triumph